DIRECTOR
Natalie W.
TREASURER
Lynn M.
SECRETARY/NEWSLETTER EDITOR
Sue S.
MEMBERSHIP, ROAD CAPTAIN & STATE AMBASSADOR
Dawn H.
Would you like to ride with an enthusiastic local WOW® chapter? Click on any of the officer's names on the left to send them an e-mail.

Check the calendar of events page, check out our newsletter, download a chapter brochure, find out more about membership using the links on the right.

Want to meet us in person? Just drop by a meeting.


Like us on Facebook

All links open in a new window. Close the window to return to this page.

Twin Rose Ride Schedule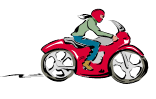 Club Newsletter
Annual Charity Ride
Membership Information
Club Brochure
Club Photos
Women On Wheels
WOW Membership Application